Viking Sisters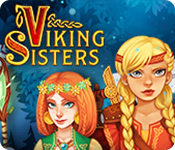 Join the Viking Sisters as they embark on a quest to save the men of their village from the spells of a wicked Sorceress. Guide the sisters through an enchanted forest, over icy mountain peaks, in their pursuit to the ends of the Earth and beyond. With Casual, Normal, and Expert game modes, everyone can enjoy this instant classic that shows girls do want to have fun, but they can also kick a little you-know-what when they have to!
Adventurous, fun-filled story.
Simple but challenging gameplay.
Mini-games, hidden puzzle pieces and more.
Viking Sisters is free to download and play. After you download Viking Sisters you have 1 trial hour to decide whether you like it or not. You can buy Viking Sisters online right away, instantly and securely.
Save the men in the village and show the evildoers what girl power is all about!